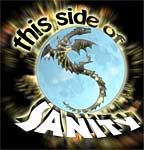 This Side of Sanity
the band's music
"Enigma"
(short introduction)
techno song
now playing:
Musical selection is "Enigma" (club mix), This Side of Sanity, © 2005 Brent and James F. Fahnestock.
versions: [club mix] [short intro] [long intro]
We ain't rich. We ain't backed by a soul-less corporate record label. We can't afford to manufacture and mail out thousands of audio CDs.
We make a full AIFF audio file available for download so that club DJs can make their own audio CD. We stand or fall on the merits of the music — not the cash pumped out by some rich label.
DJ version:
Club DJs may download the full AIFF version of this song (the same format as audio CDs) and burn copies for use in clubs.
musicians:
lead vocals: James F. Fahnestock
backing vocals: James F. Fahnestock
keyboards: Brent
electronic drums: Brent
real drums: Mark Nakagawa
guitar: Bill Gunville
Please be patient — it can take 20-55 minutes to download this song on 28.8k dial-up. We have provided the highest quality MP3 possible (192 bit stereo — near CD quality).
CD available soon! Our CD will be available soon. Check back for details.
download instructions
If you have QuickTime Pro, you can select to save the MP3 from the pop up menu.
You may be able to directly download the MP3 through this link: download now. If the browser reports that it doesn't know the MIME type, go ahead and download it — you will get the full MP3. If the browser brings up QuickTime, then try the next step.
As a final method, we have instructed your browser to keep a copy of the MP3 in its cache. That copy will be there only as long as this web page is loaded. Wait until the full song has downloaded to your browser, then go into the browser cache and search for the song (on a Macintosh, the browser cache will be located in the System Folder --> Preferences --> Netscape Users --> your user name --> Cache ƒ). This will only work for Netscape Communicator or Navigator; Microsoft Internet Explorer uses a proprietary anti-social cache that doesn't allow direct user access) The song will be listed under a strange name (something like cache416991.mp3) — locate it by searching for something with an MP3 file extension. Now, copy (not move) the file from the cache to the desktop (soon after you close this web page, the copy in the cache will be removed) and rename it something meaningful like enigmashort.mp3.
building web traffic
OSdata.com (my most popular website) has more than
two million unique visitors per month
I can help a business person dramtically increase his or her web traffic.
Read details here.
---
music | poetry | art | Goddess stories | essays | politics | humor | Dianic Witchcraft