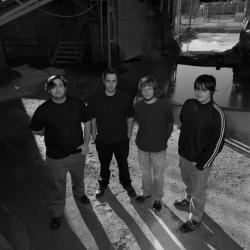 FAILSAFE
genre: Alternative Rock
website:
www.failsafe3.com
cd available at:
e-mail:
telephone:
mailing address:
signed to: unsigned
major influences: Jimmy Eat World/ Face to Face/Screachin Weazel
similar artists:
group members:
instruments:
location: Austin, Texas
biography
Tonos Placements:
Ind. Opp Forwards:22
Ind. Opp Wins: 2
A/R Drop Box Wins:2
Runner-Ups: 3
Radio Placements:1

"All in A Day"
"The recording quality is there, the professionalism is there,these guys are well on their way! For this reviewer a copy of their album is a must! They are ready for the big time, my suggestion to the rest of the listening world,Prepare to be assimilated!" CLINT GAIGE www.godsofmusic.com Music reviewer/ & Radio Station Consultant

FAiLSAFE QUOTE
"Our words are our wounds and our music transcends the conscience state of memory or you could just say we are the John Cusack's of rock'n roll."

Beginning as a little less than hardcore, but more than pop-punk attitude in 1996 FAiLSAFE stepped up to the next level with the help of producer Ryan Greene (Nerf Herder) with a crushing yet accessible 4 song demo. Since 1999 FAiLSAFE has shared the stage with regional and national band / RiddlinĠ Kids (Aware Records)The Ataris (Columbia Records) Recover/ Fastball and EVE 6.

Failsafe is part of the incestuous Austin TX rock family.They have a full length CD and EP just completed Aug. 2003

101X Radio Station in Austin is currently playing "By The Way"
a live version 101X
recorded.

Songs in Movies:
"Outside of the World"
in feature film "Getting Hal" starring Brad Rowe/Doyle Murray Karyn Rachtman-music supervisor

TV credits
"Kozy Claustrophobic"
on DAWSON's Creek
WB Channel-01/22/03

Failsafe Showcases- EAT-M May 2002-House of Blues /Las Vegas.
Rock-U Showcase-June 2002 Austin,Tx- 2NMC showcase-October 2002 Nashville

Thanks to Tonos Failsafe recorded in the John Lennon Recording Bus 05/2002

Top awards and recognition abound for Failsafe. Runner-Up — top 15 band -2002 Indie Band Search. Top 50 Qualifier in "The American Music Awards Presents The Coca-Cola New Music Award" 2001 and 2002 competition

FAiLSAFE looks forward to becoming a FORCE in the FUSION of the new rock era.
upcoming shows

location
date
time
price
notes
support live music
record label:
music publisher:
management:
publicity:
to make updates or changes send e-mail to contact00@ThisSideofSanity.com with this reference number ac000001
listings without contact info will be removed December 31st
---
This Side of Sanity
presents
band/solo act listings
Free capsule summary web pages for independent bands and solo acts. Send your basic information (name, e-mail, phone, mailing address, website, instrument(s), style/genre, general location/country, etc.) to contact00@ThisSideofSanity.com. Keep total text information under 12K and limit of a single JPEG or GIF attachment (smaller than 23k). This is all done by hand, so please be patient on listings being added.
Also, after I find a reliable service, I will be resuming the internet radio station MiloRadio.com — so feel free to submit CDs toMiloRadio.com, PO Box 1361, Tustin, Calif, 92781, USA.
---
song information
---
music | poetry | art | essays | humor