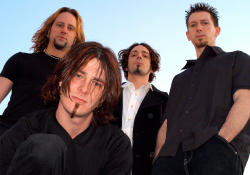 SEAHOLLIES
genre: Mainstream Rock
website:
cd available at:
e-mail:
telephone:
mailing address:
signed to: unsigned
major influences: everything
similar artists:
group members:
instruments:
location: Erie, PA
biography
They're heavy, but dare not call it metal. It's alternative and catchy, heavy and emotional but when fused in live shows or radio rotation with today's artists … they surely deliver. Based in Erie, PA they exude command and a musical maturity that only years of experience can produce.
The SEAHOLLIES posses a universal approach to originality. The songs are pop in structure, but with guitars blazing and a thick freight train of drum and bass, their movement pushes the music to the foreground. Vocal lines that are melodic and inducing are all over their musical compositions.
In March 2002 they won a Michelob Light/Planet Radio 93.3 Battle of the bands. Beating out over 150 local bands they were chosen by multiple judges with an almost perfect score based on musicianship, professionalism, experience, songwriting, and live performance.
July 2002 proved equally great for them when they won an online battle of the bands at rollingrock.com. Chosen by number of votes, acceptability and mainstream appeal by the people as well as a few industry heavy hitters… they beat out thousands of unsigned national acts. That secured a main stage set at the Rolling Rock Town Fair 3.3. Not only was this a great national debut but it was their CD release party for the full Length CD "Taurine" which is the 12 song epic that put SEAHOLLIES On the map.
Thier 2003 release is almost complete…"radiate" is a featured single from this amazing new CD. Industry insiders are already appearing to show support for this refreshing new band.
More to come soon hang in there and be part of the ongoing story.
With a buzz this fresh they won't be a secret for long!
upcoming shows

location
date
time
price
notes
support live music
record label:
music publisher:
management:
publicity:
to make updates or changes send e-mail to contact00@ThisSideofSanity.com with this reference number ac000002
listings without contact info will be removed December 31st
---
This Side of Sanity
presents
band/solo act listings
Free capsule summary web pages for independent bands and solo acts. Send your basic information (name, e-mail, phone, mailing address, website, instrument(s), style/genre, general location/country, etc.) to contact00@ThisSideofSanity.com. Keep total text information under 12K and limit of a single JPEG or GIF attachment (smaller than 23k). This is all done by hand, so please be patient on listings being added.
Also, after I find a reliable service, I will be resuming the internet radio station MiloRadio.com — so feel free to submit CDs toMiloRadio.com, PO Box 1361, Tustin, Calif, 92781, USA.
---
song information
---
music | poetry | art | essays | humor