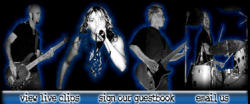 Trip2go
genre: Mainstream Rock
website:
www.mp3.com/trip2go
cd available at:
www.mp3.com/trip2go
e-mail:
telephone:
mailing address:
signed to: unsigned
major influences: Beatles, King Crimson, Shades Apart, Sex Pistol...
similar artists:
group members:
instruments:
location: Florida
biography
Trip2Go has had 2 #1 songs "Why" and "F.U.K" in Rock on Garageband.com (why went to #2 overall, FUK to #8 overall). Our www.mp3/trip2go site, was cleared and in a short period has had over 16,000 downloads of our music. We seek to cross over into several markets from Rock and Active Rock to Alternative, and even Pop. Our blend of heavy parts and smooth vocal harmony creates a broader range of appeal, and substantial musical variety as a result of 3 songwriters who all like to experiment within the bounds of hook laden and tightly arranged songs. 2 exceptional vocalists and a powerful live presentation back up the promise of the studio recordings. Listing of upcoming gigs at festivals and opening slots for nationals passing through Florida and the near southeast can also be found at the website. Many pictures can be accessed at the "Images" tab on the mp3.com page. We keep going strong and have become crowd favorites at many venues. We are also able to collaborate with others as our love of music leaves us open minded. Our approach to music has enabled us to develop a fanbase as diverse as our writing styles. Please contact us for any questions.
upcoming shows

location
date
time
price
notes
support live music
record label:
music publisher:
management:
publicity:
to make updates or changes send e-mail to contact00@ThisSideofSanity.com with this reference number ac000003
listings without contact info will be removed December 31st
---
This Side of Sanity
presents
band/solo act listings
Free capsule summary web pages for independent bands and solo acts. Send your basic information (name, e-mail, phone, mailing address, website, instrument(s), style/genre, general location/country, etc.) to contact00@ThisSideofSanity.com. Keep total text information under 12K and limit of a single JPEG or GIF attachment (smaller than 23k). This is all done by hand, so please be patient on listings being added.
Also, after I find a reliable service, I will be resuming the internet radio station MiloRadio.com — so feel free to submit CDs toMiloRadio.com, PO Box 1361, Tustin, Calif, 92781, USA.
---
song information
---
music | poetry | art | essays | humor