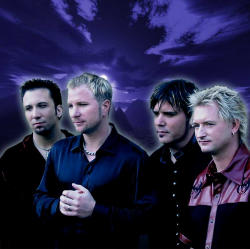 Green Vinyl Dream
genre: Mainstream Rock
also: Alternative Rock, Metal, R&B
website:
cd available at:
e-mail:
telephone:
mailing address:
signed to: unsigned
major influences: Pearl Jam, Zeppelin, Rush
similar artists:
group members: Hajewski (vocal, guitar), Rick Holton (guitar), Rick Zaccaro (bass), Jeff Heintz (drums)
instruments: male vocals, guitar, bass, drums
location: San Fernando Valley, California
biography
Green Vinyl Dream has been a band on the verge for the last several years, and now their first nationally released full-length album, GREEN VINYL DREAM (from DCC Compact Classics), has them poised for the breakthrough they've been building toward.
The band takes seemingly innate songwriting and performance instincts and combines them with a breadth of inspirations — from alt rock to classic rock to art rock, Pearl Jam and Creed to Rush and U2 — to create a unique sonic punch and relentlessly memorable hooks.
The band—vocalist and guitarist Hajewski, guitarist Rick Holton, bassist Rick Zaccaro and drummer Jeff Heintz—formed in the San Fernando Valley in the mid-Ô90s right after the Northridge earthquake ("It was a moving experience," jokes Hajewski). Their first indie single, "Can't Stop Now," garnered significant radio airplay on select stations around the country. They followed that success by recording the original soundtrack to the film "The Pistol," based on the life of the late basketball star "Pistol" Pete Maravich.
Ultimately, the band was named one of the Top Ten unsigned acts of the year by Music Connection Magazine, and their debut indie CD earned the Most Outstanding Indie Album award at the L.A. Music Awards. The band also won an award for one of their songs from the prestigious John Lennon Songwriting Contest. That song, "Everybody's Here," appears on the new album.
GVD is a true collective, four like-minded, talented musicians—sincere and serious about what they do. The band is currently supporting the album opening for bands such as Aerosmith, Fuel, Linkin Park and UPO.
upcoming shows

location
date
time
price
notes
support live music
record label:
music publisher:
management:
publicity:
to make updates or changes send e-mail to contact00@ThisSideofSanity.com with this reference number ac000005
listings without contact info will be removed December 31st
---
This Side of Sanity
presents
band/solo act listings
Free capsule summary web pages for independent bands and solo acts. Send your basic information (name, e-mail, phone, mailing address, website, instrument(s), style/genre, general location/country, etc.) to contact00@ThisSideofSanity.com. Keep total text information under 12K and limit of a single JPEG or GIF attachment (smaller than 23k). This is all done by hand, so please be patient on listings being added.
Also, after I find a reliable service, I will be resuming the internet radio station MiloRadio.com — so feel free to submit CDs toMiloRadio.com, PO Box 1361, Tustin, Calif, 92781, USA.
---
song information
---
music | poetry | art | essays | humor