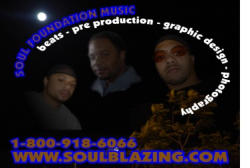 Soul Foundation Music
genre: Hip Hop
also: Jazz, Latin, R&B
website:
http://www.soulblazing.com
cd available at:
e-mail:
telephone: 202-359-3576
mailing address:
signed to: unsigned
major influences:
similar artists:
group members: Mystery and DJ Spade1
instruments: DJs
location:
biography
Urban music company specializing in Hip-Hop, R&B, Neo-Soul and Jazz. We are producers with a large catalog of beats and also a nice roster of Artsist with completed projects.
Soul Foundation Music was created by Mystery and DJ Spade1 in 2000. It started off as just a name for the crew, but soon grew into much more than that. The dedication and persistence of the duo has allowed them to create a small buzz in the online music world, and a even larger buzz is growing in the commercial world.
The name "Soul Foundation Music" means just what it reads. The company is built on a foundation of soul and positive vibes, and you can hear it in the music. Soul Foundation has it's own producers who are well versed in music. Both Mystery and DJ Spade1 were part of the Virginia State University Marching Band, and had been involved in music well before they connected in college.
Check us out at http://www.soulblazing.com or contact Spade 1 @202-359-3576
upcoming shows

location
date
time
price
notes
support live music
record label:
music publisher:
management:
publicity:
to make updates or changes send e-mail to contact00@ThisSideofSanity.com with this reference number ac000006
listings without contact info will be removed December 31st
---
This Side of Sanity
presents
band/solo act listings
Free capsule summary web pages for independent bands and solo acts. Send your basic information (name, e-mail, phone, mailing address, website, instrument(s), style/genre, general location/country, etc.) to contact00@ThisSideofSanity.com. Keep total text information under 12K and limit of a single JPEG or GIF attachment (smaller than 23k). This is all done by hand, so please be patient on listings being added.
Also, after I find a reliable service, I will be resuming the internet radio station MiloRadio.com — so feel free to submit CDs toMiloRadio.com, PO Box 1361, Tustin, Calif, 92781, USA.
---
song information
---
music | poetry | art | essays | humor