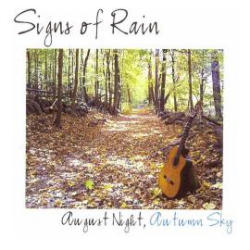 Signs of Rain
genre: Contemporary Jazz
also: New Age, Celtic, Electronic
website:
http://www.signsofrain.com
cd available at:
e-mail:
telephone:
mailing address:
signed to: unsigned
major influences: The Rippingtons, Pat Methany, David Arkenstone
similar artists:
group members: Ron Porcelli and Glenn Dagrossa
instruments:
location: Chappaqua, New York
biography
Signs of Rain is the brain trust of brother in laws Ron Porcelli and Glenn Dagrossa. The music was described by the Jazz Times as " The New Age of Smooth Jazz".
Their first release August Night, Autumn Sky was released in 2001 and immediately rose to IUMA's and MP3.coms's top ten charts for jazz, new age, easy listening, and world beat. The CD has remained at the top ever since. Approximately 1200 CDs were sold both online and during the bands live appearances.
Their song "Corazon De Leon" was licensed by WSOC in Miami as the theme song for their Friday night Latin Jazz show and acoustic number "Brothers Bond" was used on TV news show "20/20".
One of the major benefits for Signs of Rain is their ability to perform live, a skill not shared by many other new age artists. The use of music and visual stimulation, puts Signs of Rain shows in the category of an arena rock band.
Currently the band is recording a full length follow up CD, due for release 4th quarter 2003. The CD will also include some more famous jazz musicians from the New York area. All work, except for mastering, is being completed at their personal studios in Chappaqua, New York.
upcoming shows

location
date
time
price
notes
support live music
record label:
music publisher:
management:
publicity:
to make updates or changes send e-mail to contact00@ThisSideofSanity.com with this reference number ac000007
listings without contact info will be removed December 31st
---
This Side of Sanity
presents
band/solo act listings
Free capsule summary web pages for independent bands and solo acts. Send your basic information (name, e-mail, phone, mailing address, website, instrument(s), style/genre, general location/country, etc.) to contact00@ThisSideofSanity.com. Keep total text information under 12K and limit of a single JPEG or GIF attachment (smaller than 23k). This is all done by hand, so please be patient on listings being added.
Also, after I find a reliable service, I will be resuming the internet radio station MiloRadio.com — so feel free to submit CDs toMiloRadio.com, PO Box 1361, Tustin, Calif, 92781, USA.
---
song information
---
music | poetry | art | essays | humor