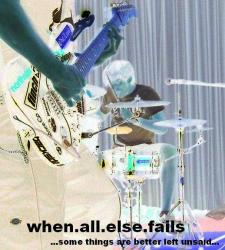 When All Else Fails
genre: Alternative Rock
also: Modern Rock, Punk Rock, Emo
website: www.whenallelsefails.net
and http://artists.mp3s.com/artists/561/waef.html
cd available at:
e-mail:
telephone:
mailing address:
signed to: unsigned
major influences: Alkaline Trio, Nirvana, Thrice, Fallout Boy
similar artists:
group members:
instruments:
location: Gloucester, Virginia
biography
Mix of Alkaline Trio, Green Day, and Nirvana.
Starting with four very bored individuals that love music, When All Else Fails was formed in the fall of 2001. Their humble start came by playing through tiny 10 watt amps with endless amounts of feedback in a garage of the suburbs of Gloucester, Virginia.
These four musicians, ages ranging from 15 to 18, take such influences as the Ataris, Alkaline Trio, the Descendents, Coheed and Cambria, Finch, Sunny Day Real Estate, Taking Back Sunday, the Early November, Nirvana, and many other great bands to create the unique sound When All Else Fails is accredited with.
Their debut full length cd is due out in the summer of 2003, and when these guys are not working hard in the studio, they are working hard by playing as many shows as possible. When All Else Fails has either shared the stage with or have an upcoming show with River City High, Count the Stars, Fallout Boy, Breaking Pangea, A Static Lullaby, Northstar, Jackmove, Bail Out, Almost Always, Backside Slappy, Ten Years From Now, Adara, Atkins Lane, Kill Your Crush, Jeremiah, One More Go, Past Out, The Banned, No Charge, Shindig, Races to April, Unit Five, Malfunction, and many other great bands.
WAEF has also won the fan favorite award of the Online Rock Festival (www.onlinerockfest.com) and as part of one of their prizes, they won a tonos.com membership.
Check out http://artists.mp3s.com/artists/561/waef.html if you have time as well.
upcoming shows

location
date
time
price
notes
support live music
record label:
music publisher:
management:
publicity:
to make updates or changes send e-mail to contact00@ThisSideofSanity.com with this reference number ac000009
listings without contact info will be removed December 31st
---
This Side of Sanity
presents
band/solo act listings
Free capsule summary web pages for independent bands and solo acts. Send your basic information (name, e-mail, phone, mailing address, website, instrument(s), style/genre, general location/country, etc.) to contact00@ThisSideofSanity.com. Keep total text information under 12K and limit of a single JPEG or GIF attachment (smaller than 23k). This is all done by hand, so please be patient on listings being added.
Also, after I find a reliable service, I will be resuming the internet radio station MiloRadio.com — so feel free to submit CDs toMiloRadio.com, PO Box 1361, Tustin, Calif, 92781, USA.
---
song information
---
music | poetry | art | essays | humor