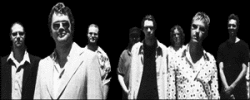 The Band That Saved The World
genre: R&B
also: Hip Hop, Mainstream Rock
website:
cd available at:
e-mail:
telephone:
mailing address:
signed to: unsigned
major influences: Tower of Power, Steeley Dan, Fishbone
similar artists:
group members: Shannon Savoie (lead vocals)
instruments:
location: Lawrence, Kansas
biography
Formed in 1996, the Band That Saved the World is determined to present an entertaining, lively show of original music. Blending such influences as rock, funk, soul, and pop, the band delivers a surprising mix of danceable, eclectic tunes that are designed to make you groove.
"For years, the Band That Saved the World has been known for providing an extra-fun evening of entertainment, guaranteed. With rump-shaking rhythms, Shaft-era chicken-scratch guitar, horny horns that flitter and buzz like bees and frontman Shannon Savoie's ringmaster theatrics, the Lawrence(KS)-based octet definitely knows how to deliver the live goods." — Geoff Harkness (The Pitch, May 2002).
The band's live resume is extensive and continually growing, with opening performances for such established acts as Lauryn Hill, the Moody Blues, The Urge, and Liquid Soul. They regularly entertain crowds in club scenes from Boulder to Chicago, and have frenzied over 8,000 attendees in Belfort, France, when closing the French International Music Festival in 1999.
In addition to countless live releases, TBTSTW has made two self-produced, full-length albums. The first, Struggle To Chill, with its hip grooves, thoughtful lyrics, and dreamy music washes called "soups", showed that the band could be both eclectic and accessible. Their most recent release, Changes, shows that this talented young band can go wherever it wishes with ease and sincerity, and illustrates that they can write toe-tapping, hip-shaking melodies that you'll be singing to yourself the next day.
Focused on creating new music for a new generation, yet incorporating seamless references to classic styles, TBTSTW is destined to turn more and more ears to what they call "grassroots, funky, American, rock-n-roll."
upcoming shows

location
date
time
price
notes
support live music
record label:
music publisher:
management:
publicity:
to make updates or changes send e-mail to contact00@ThisSideofSanity.com with this reference number ac000010
listings without contact info will be removed December 31st
---
This Side of Sanity
presents
band/solo act listings
Free capsule summary web pages for independent bands and solo acts. Send your basic information (name, e-mail, phone, mailing address, website, instrument(s), style/genre, general location/country, etc.) to contact00@ThisSideofSanity.com. Keep total text information under 12K and limit of a single JPEG or GIF attachment (smaller than 23k). This is all done by hand, so please be patient on listings being added.
Also, after I find a reliable service, I will be resuming the internet radio station MiloRadio.com — so feel free to submit CDs toMiloRadio.com, PO Box 1361, Tustin, Calif, 92781, USA.
---
song information
---
music | poetry | art | essays | humor