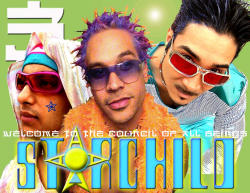 STAAARCHILD
genre: Electronica
also: R&B, Pop, Hip Hop
website:
STAAARCHILD.COM
cd available at:
e-mail:
telephone:
mailing address:
signed to: unsigned
major influences: All Artist that have shaped the World of Music…
similar artists:
group members:
instruments:
location:
biography
STAAARCHILD, the future of Electronica is actually a group formed by the Lead singer of a very established 70s Disco Cover Band in LA called THE FUNKY HIPPEEZ (www.soloprod.com)
After Seven years establishing themselves as the Worlds Premier Disco Tribute Band three out of the five members decided to form what they envisioned as the New Disco of the Millennium, House Music. Living in the After Hour CLUB scene of LA and seeing this new surge of House & Electronic Music, STAAARCHILD was born. The group's goal is to take House/Electronica to the next level, which would be a group with a complete band as apposed to a DJ. The group writes and produces all of its material. Although STAAARCHILD's sound is unique and cuting edge it still retains massive commercial appeal. To see a STAAARCHILD show is to take a peek into the future of Pop music.
STAAARCHILD's House cut "I LIKE IT" was the winner of the TONOS (MOONSHINE ELECTRONIC Challenge) judged by Producer/DJ/Artist Dave Aude.
"I LIKE IT" was also a runner up in the 2002 John Lennon Songwriting Contest in the Electronic Category.
STAAARCHILD's Trance cut "Calling" was a finalist and forwarded to the TONOS Marsha X Opp.
STAAARCHILD's cut FEEL THE VIBE got a favorable review by Legendary Producer DAVID FOSTER.
STAAARCHILD's Song "THEM DJ's" was a Finalist and forwarded to the TONOS BAHA MEN Opp.
STAAARCHILD was AOL Musician of the Week.
STAAARCHILD recently signed a management contract with NENE Musik from New York, and is currently shopping a Record Deal.
NENE MUSIK PRODUCTIONS, LLC.
www.nenemusik.com
Manager:Ruben Martinez
845 534-5814
Visit us at STAAARCHILD.COM
(Look for shows coming to Major AfterHour Clubs in LA)
upcoming shows

location
date
time
price
notes
support live music
record label:
music publisher:
management: Ruben Martinez 845 534-5814
publicity:
to make updates or changes send e-mail to contact00@ThisSideofSanity.com with this reference number ac000015
listings without contact info will be removed December 31st
---
This Side of Sanity
presents
band/solo act listings
Free capsule summary web pages for independent bands and solo acts. Send your basic information (name, e-mail, phone, mailing address, website, instrument(s), style/genre, general location/country, etc.) to contact00@ThisSideofSanity.com. Keep total text information under 12K and limit of a single JPEG or GIF attachment (smaller than 23k). This is all done by hand, so please be patient on listings being added.
Also, after I find a reliable service, I will be resuming the internet radio station MiloRadio.com — so feel free to submit CDs toMiloRadio.com, PO Box 1361, Tustin, Calif, 92781, USA.
---
song information
---
music | poetry | art | essays | humor