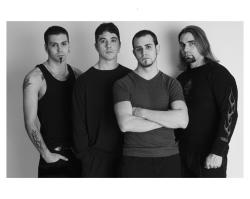 Dogfight
genre: Mainstream Rock
also: Alternative Rock, Metal
website:
Dogfightband.com
cd available at:
e-mail:
Management@Dogfightband.com
telephone:
mailing address:
signed to: unsigned
major influences: Tool, Alice N Chains, Incubus, STP, Godsmack
similar artists:
group members: DannyD (drummer); MikeQ (bassist); MikeB (vocals); EricO (guitar)
instruments:
location: Boston, Massachusettes
this band broke up in fall of 2005
biography
Dogfight is best described as a young aged, powerful, and uncompromising hard rock band. Their music is as energetic as it is melodic, blending their diverse musical influences to create strong, memorable, intensely emotional songs. The band's live performance is equally as powerful, physical and intense.
The band has been receiving continuous airplay on many college radio stations; as well as local & prime time spotlight shows on WAAF, WBCN,WGIR, WHJY and WHEB in New Hampshire.
The band has also performed live on WAAF Baystate Rock.
WAAF in Boston asked the band to play their Holiday Bash back on December 7th. For this show, DOGFIGHT was the only local band to open for National Recording Artist Noise Therapy and PAPA ROACH. You will be able to catch some footage of this show on WAAF Real Rock TV show.
WGIR has been allowing DOGFIGHT to open up some of their National Recording Artist shows as well!!
The band has release it's latest CD titled "PUSH" on October of 2002 and has sold 1000 units without any commercial backings.
Dogfight continues in their tradition of powerful guitar driven music. Never satisfied, the band is constantly developing their craft and exploring various musical landscapes. DogfightÕs intention has always been to merge individual musical styles to create strong, memorable, emotional songs. Refusing to attach stereotypes to itself, the members simply prefer to write, record and play without compromise. Dogfight is an ambitious band possessing drive, desire, commitment, resilience and attitude.
upcoming shows

location
date
time
price
notes
support live music
record label:
music publisher:
management:
publicity:
Also see artist info.
to make updates or changes send e-mail to contact00@ThisSideofSanity.com with this reference number ac000018
listings without contact info will be removed December 31st
---
Milo of This Side of Sanity strongly recommends this band.
This Side of Sanity
presents
band/solo act listings
Free capsule summary web pages for independent bands and solo acts. Send your basic information (name, e-mail, phone, mailing address, website, instrument(s), style/genre, general location/country, etc.) to contact00@ThisSideofSanity.com. Keep total text information under 12K and limit of a single JPEG or GIF attachment (smaller than 23k). This is all done by hand, so please be patient on listings being added.
Also, after I find a reliable service, I will be resuming the internet radio station MiloRadio.com — so feel free to submit CDs toMiloRadio.com, PO Box 1361, Tustin, Calif, 92781, USA.
---
song information
---
music | poetry | art | essays | humor