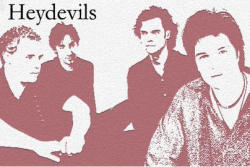 Heydevils
genre: Mainstream Rock
also: Modern Rock, Alternative Rock, Pop
website:
www.heydevils.com
cd available at:
www.heydevils.com
e-mail:
telephone:
mailing address:
signed to: unsigned
major influences:
similar artists:
group members: Michael Corn, Doug Derryberry, John DiGiulio, Cliff Mays
instruments: male vocals, guitar, bass, drums, keyboards
location:
biography
ARTIST NAME: Heydevils
MUSICAL STYLE:
The Modern Rock Quartet
BAND MEMBERS:
Michael Corn — Bass, Drums, Keyboards, Guitar & Backing Vox
Doug Derryberry — Guitars & Backing Vox
John DiGiulio — Drums
Cliff Mays — Lead Vox & Guitars
WHO ARE HEYDEVILS?
The essence of who the band is revealed within the lyrics, and the music that surrounds them. Lyrically, Heydevils is often satirical, handling serious subject matter with unique wit and insight. Each song tells a story that draws upon themes of the human condition — emotions everyone has felt and gone through at one time or another. The songs explore the curious recurring human tendencies to be oversexed, over self-medicated, the lustful pursuit of material things, the fear of loneliness, sentimentality and the quest for spiritual meaning at the end of the day — in no particular order.
Proud to say we have just recorded and released our first CD. The album is titled "New Reality" and you can pick up your very own copy here www.heydevils.com
Heydevils named AOL Musician of the Week.
Heydevils song Jezebel chosen as a finalist in the Flagship Music Publishing Industry Opp!
Heydevils chosen finalist in "Manager Looking For Artists With Baby Boomer Appeal Ind Opp"
Heydevils song "You Have No Right" named finalist in the Tonos Blue Storm Ind Opp
Heydevils were named Tonos June A&R Drop Box Semi Finalists.
Heydevils were named "most downloaded band" off The WashingtonPost MP3 Website.
Heydevils have been featured on Tonos Radio three times. Picked by our peers! Tremendous honor. We are humbled! Thanks Friends!
Based around the songwriting team of Cliff Mays and Michael Corn along with the musical expertise of Doug Derryberry and John Digiulio, the band has set out to create a clear musical representation of our life.
We invite you to visit the Official Heydevils website to get all the latest news, concert info, full mp3, band history, pics etc!
www.heydevils.com
See ya sooner…
upcoming shows

location
date
time
price
notes
support live music
record label:
music publisher:
management:
publicity:
to make updates or changes send e-mail to contact00@ThisSideofSanity.com with this reference number ac000030
listings without contact info will be removed December 31st
---
This Side of Sanity
presents
band/solo act listings
Free capsule summary web pages for independent bands and solo acts. Send your basic information (name, e-mail, phone, mailing address, website, instrument(s), style/genre, general location/country, etc.) to contact00@ThisSideofSanity.com. Keep total text information under 12K and limit of a single JPEG or GIF attachment (smaller than 23k). This is all done by hand, so please be patient on listings being added.
Also, after I find a reliable service, I will be resuming the internet radio station MiloRadio.com — so feel free to submit CDs toMiloRadio.com, PO Box 1361, Tustin, Calif, 92781, USA.
---
song information
---
music | poetry | art | essays | humor