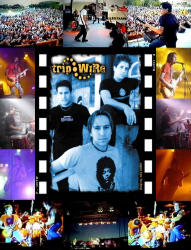 Tripwire
genre: Modern Rock
also: Alternative Rock
website:
cd available at:
e-mail:
telephone:
mailing address:
signed to: unsigned
major influences: Beatles, Queen, Creed, King
similar artists:
group members:
instruments:
location: Corpus Christi, Texas
biography
Originally formed as Next Big Something, TRIPWIRE is an intense modern rock trio that has worked relentlessly at writing, recording, and touring for the past 4 years. In 2000 the band's single Every Little Thing garnered tons of radio play (charting #3 on CMJ), which grabbed the attention of several major labels, agents, management companies and even famed 80's rocker Eddie Ojeda, lead guitarist for the band Twisted Sister. "Eddie showed interest in producing a few tracks for us. He flew down to our home town of Corpus Christi, TX to see the band play live, which was pretty flattering at the time" says Chris. Since then, Tripwire have shared the stage with Fuel, Drowning Pool, Live, Union Underground, Jason Bonham, Vince Neil, Tesla, Yes, and Kansas to name a few. "Having opened shows for some of the best bands in rock music and swapping stories with those guys has shed a whole new light on what we can expect in this crazy biz", says John. In 2002 the band continued to be blessed entering the studio with two multi-platinum producers. First, producer Tom Morris (7 Mary 3, Savatage) and most recently Kevin Beamish who produced artist/bands ranging from (REO Speedwagon, to Saxon, to Kenny Chesney). "Recording with both Tom and Kevin was such a cool experience, because this is the first band I've ever been in and now we're opening for nationals bands and recording with platinum producers" says Jesse. "Ironically enough, engineer/producer Dave Dominguez (Staind, Papa Roach, Adema, Guns N Roses) has also taken interest in the band, so we expect a busy 2003 as Major label interest remains high" says John.
NOTE— Tripwire will hit the road again in support of our next single to radio, opening a few shows in March'03 as part of the Jagermeister Music Tour, which will feature co-headliners Saliva and hed(pe). Visit www.jagermusic.com or www.tripwiretheband.com for more info!!
upcoming shows

location
date
time
price
notes
support live music
record label:
music publisher:
management:
publicity:
to make updates or changes send e-mail to contact00@ThisSideofSanity.com with this reference number ac000033
listings without contact info will be removed December 31st
---
This Side of Sanity
presents
band/solo act listings
Free capsule summary web pages for independent bands and solo acts. Send your basic information (name, e-mail, phone, mailing address, website, instrument(s), style/genre, general location/country, etc.) to contact00@ThisSideofSanity.com. Keep total text information under 12K and limit of a single JPEG or GIF attachment (smaller than 23k). This is all done by hand, so please be patient on listings being added.
Also, after I find a reliable service, I will be resuming the internet radio station MiloRadio.com — so feel free to submit CDs toMiloRadio.com, PO Box 1361, Tustin, Calif, 92781, USA.
---
song information
---
music | poetry | art | essays | humor