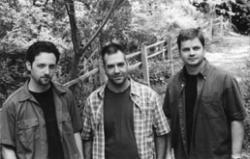 Soulscript
genre: Adult Album Alt (Triple A)
also: Alternative Country
website:
www.Soulscript.com
cd available at:www.Soulscript.com and www.CdBaby.com and www.Amazon.com and local New Orleans stores
e-mail:
telephone:
mailing address:
signed to: unsigned
major influences:
similar artists:
group members: Chris Williams, Eric Whittenburg, Tommy Bowden
instruments: male vocals, keyboards, bass, drums, mandolin, harmonica, banjo, guitar, percussion
location: New Orleans, Louisiana
biography
Formed in 2001 after meeting in a New Orleans emergency room, Soulscript is Chris Williams, Eric Whittenburg, and Tommy Bowden. After discovering a mutual interest in songwriting and home recording, they soon began writing together. This eventually led to their debut CD, "There By Now", which was self-produced and recorded entirely at Tommy's home studio in Covington, LA. The album, which features eleven original songs written by the band members, was released in July of 2002 on the bands own label, Nobody Big Records. "There By Now" can be classified as Americana / AAA and Alt. Country.
Chris Williams brings a wide array of talents to the band. In addition to being the lead vocalist and primary keyboard player, he is an impressive lead guitarist, equally at home on electric, acoustic, and slide guitar. He currently resides in Mandeville, Louisiana and works as an emergency room nurse.
Eric Whittenburg is a multi-instrumentalist who plays bass, drums, mandolin, banjo, harmonica, and percussion on the CD. The only band member not native to Louisiana, Eric performed with bands in St. Louis and Chicago before moving south. He now lives in Baton Rouge, Louisiana and works as a foot doctor.
Tommy Bowden in many ways is the engine behind Soulscript. Besides playing rhythm guitar, keyboards, and providing backing vocals, Tommy engineered and mixed "There By Now". A native of Lafayette, Louisiana, he has performed with bands in New Orleans for several years. He is currently a resident of Covington, Louisiana and works as an emergency room doctor.
"There By Now" is available at www.Soulscript.com, www.CdStreet.com, www.CdBaby.com, www.Amazon.com, as well as, local stores in the the New Orleans area.
upcoming shows

location
date
time
price
notes
support live music
record label:
music publisher:
management:
publicity:
to make updates or changes send e-mail to contact00@ThisSideofSanity.com with this reference number ac000034
listings without contact info will be removed December 31st
---
This Side of Sanity
presents
band/solo act listings
Free capsule summary web pages for independent bands and solo acts. Send your basic information (name, e-mail, phone, mailing address, website, instrument(s), style/genre, general location/country, etc.) to contact00@ThisSideofSanity.com. Keep total text information under 12K and limit of a single JPEG or GIF attachment (smaller than 23k). This is all done by hand, so please be patient on listings being added.
Also, after I find a reliable service, I will be resuming the internet radio station MiloRadio.com — so feel free to submit CDs toMiloRadio.com, PO Box 1361, Tustin, Calif, 92781, USA.
---
song information
---
music | poetry | art | essays | humor