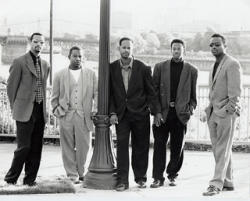 N' Touch
genre: Jazz
also: R&B, Hip Hop, Blues
website:
cd available at:
e-mail:
telephone:
mailing address:
signed to: unsigned
major influences: Grover Washington, Jr., George Benson
similar artists:
group members: Eldon "T" Jones, Matthew Minnieweather, David Allen, Anthony Jones, Terry Taylor
instruments: saxophone, keyboards, guitar, drums, percussion
location:
biography
Band Members:

Sax — leading the band is saxophonist Eldon "T" Jones who has been influenced by such artists as Grover Washington Jr., Wilton Felder of the Crusaders and Kirk Whalum. A product of the Northwest's education Mecca for jazz, Mt. Hood Community College. Eldon plays with soulful conviction, never forgetting his gospel roots.

Keyboards — Matthew Minnieweather, is the son of a minister and is an exceptional keyboard and piano player. Matthew also was raised in Portland, Oregon playing in church on a regularly basis since childhood. He too comes from a multi-talented family of musicians. He is a dynamic song arranger.

Guitar — David Allen is one of the finest guitarists around. David's melodic style is influenced by a variety of artists such as Wes Montgomery, George Benson, Pat Metheny and Carlos Santana. David is originally from Pittsburgh, PA. He graduated in engineering from Brown University, where he sharpened his music talents as a solo performer, local bandleader and music director for university events.

Drums — Anthony Jones is the younger brother of bandleader Eldon "T" Jones. They come from a very talented musical family. Anthony is considered one of the best young drummers on the West Coast. In high school he also won numerous awards playing the trumpet. Anthony is currently completing his final year toward a degree in Architecture from Portland State University.

Percussions — Terry Taylor was raised in Los Angeles. He has been playing with the band for over a year now. Terry has been inspired by the like's of Grover Washington, Jr.'s old friend Dr. Gibbs and Sheila E.

The band has recently opened for the Portland, Oregon concerts of Earth, Wind & Fire (August-2000), Tower of Power (July-2001), Angelique Kidjo (October-2001) and Boney James (April-2002).
upcoming shows

location
date
time
price
notes
support live music
record label:
music publisher:
management:
publicity:
to make updates or changes send e-mail to contact00@ThisSideofSanity.com with this reference number ac000035
listings without contact info will be removed December 31st
---
This Side of Sanity
presents
band/solo act listings
Free capsule summary web pages for independent bands and solo acts. Send your basic information (name, e-mail, phone, mailing address, website, instrument(s), style/genre, general location/country, etc.) to contact00@ThisSideofSanity.com. Keep total text information under 12K and limit of a single JPEG or GIF attachment (smaller than 23k). This is all done by hand, so please be patient on listings being added.
Also, after I find a reliable service, I will be resuming the internet radio station MiloRadio.com — so feel free to submit CDs toMiloRadio.com, PO Box 1361, Tustin, Calif, 92781, USA.
---
song information
---
music | poetry | art | essays | humor