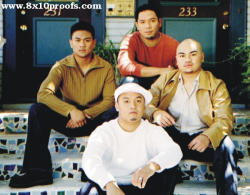 6th Day
genre: R&B
also: Hip Hop, Pop
website:
www.6thday.info
cd available at:
e-mail:
telephone:
mailing address:
signed to: unsigned
major influences: BoysIIMen, Babyface, Jam&Lewis ,BrianMcknight
similar artists:
group members:
instruments:
location:
biography
6th Day is a formation of 3 groups from the asian community (Kai, Innerlude, & DnH), one of which was signed to a major label at one time and has charted billboard on several occasions. The members in this group are experienced in international/national touring and have had substancial radio air play in the top markets.
Basically we're looking for a home in mainstream america and for someone to believe in us and for someone who wants to set the next trend by signing a talented and experienced asian vocal group. We're ready and are eager to break new ground. We know it hasn't truly been done before which truly makes it all the more exciting for us.
Visit us at www.6thday.info for a full bio and more information about us.
God willing we'll find our home soon, in fact, I know we will…
upcoming shows

location
date
time
price
notes
support live music
record label:
music publisher:
management:
publicity:
to make updates or changes send e-mail to contact00@ThisSideofSanity.com with this reference number ac000038
listings without contact info will be removed December 31st
---
This Side of Sanity
presents
band/solo act listings
Free capsule summary web pages for independent bands and solo acts. Send your basic information (name, e-mail, phone, mailing address, website, instrument(s), style/genre, general location/country, etc.) to contact00@ThisSideofSanity.com. Keep total text information under 12K and limit of a single JPEG or GIF attachment (smaller than 23k). This is all done by hand, so please be patient on listings being added.
Also, after I find a reliable service, I will be resuming the internet radio station MiloRadio.com — so feel free to submit CDs toMiloRadio.com, PO Box 1361, Tustin, Calif, 92781, USA.
---
song information
---
music | poetry | art | essays | humor