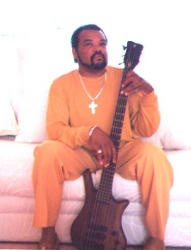 Terry EL
primary skill: bass
additional skills: Keyboards, Songwriter - Composer, Drums, Guitar
genre: Contemporary Jazz
also: Pop, Gospel, R&B
website:
cd available at:
e-mail:
cleebo2000@yahoo.com
telephone:
mailing address:
signed to: unsigned
major influences: Stanley Clarke, Victor Wooten, Marcus Miller
similar artists:
location:
biography
Terry Tuck
Terry El (artist name) E-mail: cleebo2000@yahoo.com
Instruments: Bass Guitarist
Other Instruments: Keyboards, Drums, Guitar

Music Experience: Former bassist for group The Dramatics, Former bassist for The Clark Sisters, Recording Engineer for The Sound Suite Recording Studios, Detroit MI., Recording Engineer for Tantus Recording Studios, Detroit MI., Studio bassist

Currently: Writing and producing smooth jazz solo bass project on Terry El, Writing and producing pop/r&b project on 17 year old Parris Diamond & Shakara Tuck.

Professional Credentials

THE DRAMATICS "10 1Ú2"- RECORDING ENGINEER
CHAPTER 8 "CHAPTER 8" (featuring ANITA BAKER)- RECORDING ENGINEER
NATURE'S DIVINE "IN THE BEGINNING"- RECORDING ENGINEER
HUNT'S DETERMANATION BAND "PROBLEMS"- RECORDING ENGINEER
SWEET CREAM "SWEET CREAM"- RECORDING ENGINEER
BLACKFOOT "BLACKFOOT STRIKES"- RECORDING ENGINEER
WEE GEE (DRAMATICS) "HOLD ON TO YOUR DREAMS"- RECORDING ENGINEER
THOMAS A. DORSEY "THOMAS A. DORSEY"- BASS GUITARIST
MATTIE MOSS-CLARK " MAKE ME A BUILDING"-BASS GUITARIST; RECORDING ENGINEER
MATTIE MOSS-CLARK "I'M NOT ALONE"- BASS GUITARTIST; RECORDING ENGINEER
THE THOMAS WHITFIELD COMPANY " THINGS THAT WE BELIEVE VOL. 1"- RECORDING ENGINEER
THE THOMAS WHITFIELD COMPANY "THINGS THAT WE BELIEVE VOL. 2"- RECORDING ENGINEER
REV. CHARLES NICKS "HE'S SO REAL"-BASS GUITATIST; RECORDING ENGINEER: DRUMS
REV. CHARLES NICKS AND THE SAINT JAMES CHIOR "I NEED HIM"- BASS GUITARIST
DAVID GOUGH "MASTER PEACE"- BASS GUITARIST
ELBERNITA "TWINKIE" CLARK "POWER"- BASS GUITARIST; RECORDING ENGINEER
ELBERNITA "TWINKIE" CLARK "PRAISE BELONGS TO GOD"-BASS GUITARIST; RECORDING ENGINEER
THE CLARK SISTERS "ENDOW ME"- BASS GUITARIST
THE CLARK SISTERS "HE GAVE ME NOTHING TO LOSE"-BASS GUITARIST

AWARDS

GOLD RECORD AWARDED FOR ENGINEERING ON THE ALBUM ENTITLED "BLACKFOOT STRIKES" BLACKFOOT
upcoming shows

location
date
time
price
notes
support live music
record label:
music publisher:
management:
publicity:
to make updates or changes send e-mail to contact00@ThisSideofSanity.com with this reference number bs000004
---
This Side of Sanity
presents
bass player listings
Free capsule summary web pages for independent bands and solo acts. Send your basic information (name, e-mail, phone, mailing address, website, instrument(s), style/genre, general location/country, etc.) to contact00@ThisSideofSanity.com. Keep total text information under 12K and limit of a single JPEG or GIF attachment (smaller than 23k). This is all done by hand, so please be patient on listings being added.
Also, after I find a reliable service, I will be resuming the internet radio station MiloRadio.com — so feel free to submit CDs toMiloRadio.com, PO Box 1361, Tustin, Calif, 92781, USA.
---
song information
---
music | poetry | art | essays | humor