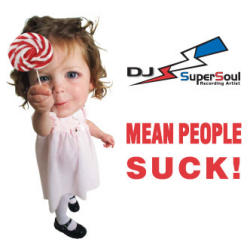 DJ Supersoul
primary skill: DJ
additional skills: Producer, Vocalist - Male
genre: Dance
also: Electronic, R&B, Pop
website:
cd available at:
e-mail:
telephone:
mailing address:
signed to: unsigned
major influences: Run DMC, James Brown, Frank Zappa, Rolling Stones
similar artists:
location: California
biography
DJ Supersoul is a keen observer; a savvy wordsmith who turns his sly observations into incisive lyrics that illuminate the foibles of the human condition. On his CD debut, Mean People Suck, he embraces irony, empathy, humor, sex and compassion. The frequency for communication is WRGO, "What's really going on radio," a virtual, non-censored forum for true expression.
DJ Supersoul is the alter-ego of one Don Johnson. Growing up in Albany, New York, Johnson, whose father who was the director of the Internal Revenue Service for New York State, was educated in all white schools. "3,000 to 1," he laughs, "it was not a pretty picture." When it came time for college, he chose an all-black university. "Coming in with my checkered shirts and Eagles records, that didn't work either, so I came to California."
On the West coast, Johnson's facility as drummer, programmer, and vocalist crystallized with his stand-up comedy studies at UCLA. "I found I could communicate in that manner without being directly offensive," he recalls. Soon, the character of DJ Supersoul was born.
In Southern California, performing alternately in music and comedy clubs, as his audiences began requesting copies of the material to take home, DJ Supersoul began recording with keyboards, samplers, vocal processing, and beats; utilizing vocal effects, choruses and other electronics to beef up the tracks. "But no ProTools," he specifies, "it's all live. My gift is not scales, but a sense of rhythm. I try to make music everyone can dance to."
upcoming shows

location
date
time
price
notes
support live music
record label:
music publisher:
management:
publicity:
to make updates or changes send e-mail to contact00@ThisSideofSanity.com with this reference number dj000003
listings without contact info will be removed December 31st
---
This Side of Sanity
presents
DJ listings
Free capsule summary web pages for independent bands and solo acts. Send your basic information (name, e-mail, phone, mailing address, website, instrument(s), style/genre, general location/country, etc.) to contact00@ThisSideofSanity.com. Keep total text information under 12K and limit of a single JPEG or GIF attachment (smaller than 23k). This is all done by hand, so please be patient on listings being added.
Also, after I find a reliable service, I will be resuming the internet radio station MiloRadio.com — so feel free to submit CDs toMiloRadio.com, PO Box 1361, Tustin, Calif, 92781, USA.
---
song information
---
music | poetry | art | essays | humor