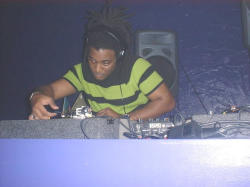 dj Sincere
primary skill: DJ
additional skills: Producer, Songwriter - Composer/Lyricist
genre: Electronic
also: R&B, Hip Hop, Pop
website:
http://www.souldaddies.com
cd available at:
e-mail:
telephone:
mailing address:
signed to: unsigned
major influences: everyday life, my family and friends,funk,soul
similar artists:
location: Houston, Texas
biography
DJing for nearly half of his life, Sincere's career began as a on-air personality and mixshow DJ at a Top 40 station in his hometown of Henderson, Texas in 1988. It was there he started to get his first taste of a new music phenomenon from Chicago called House music. Influenced by dance music greats such as Steve "Silk" Hurley, Frankie Knuckles, and all time favorite, David Morales, Sincere would later make the proverbial transition from DJ to music producer. In 1998, Sincere and fellow college buddy, DJ Baby Cee, came together to form The Souldaddies, with a vision to take underground dance music to the next level in the Houston area, as well as the world.
Look out for new house releases from Sincere and company under the Rocco & Hudson, and eSDeeZ monikers, as well as jungle and downtempo releases under The Federation moniker in late 2002 on JoLaMani Recordings. Sincere will also produce solo efforts under Se'an Michaels and Futura 5000.
For more info, click on http://www.souldaddies.com.
upcoming shows

location
date
time
price
notes
support live music
record label:
music publisher:
management:
publicity:
to make updates or changes send e-mail to contact00@ThisSideofSanity.com with this reference number dj000005
listings without contact info will be removed December 31st
---
This Side of Sanity
presents
DJ listings
Free capsule summary web pages for independent bands and solo acts. Send your basic information (name, e-mail, phone, mailing address, website, instrument(s), style/genre, general location/country, etc.) to contact00@ThisSideofSanity.com. Keep total text information under 12K and limit of a single JPEG or GIF attachment (smaller than 23k). This is all done by hand, so please be patient on listings being added.
Also, after I find a reliable service, I will be resuming the internet radio station MiloRadio.com — so feel free to submit CDs toMiloRadio.com, PO Box 1361, Tustin, Calif, 92781, USA.
---
song information
---
music | poetry | art | essays | humor