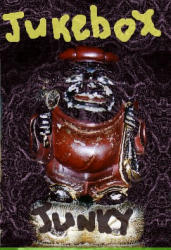 Jukebox Junky
primary skill: Drums/Percussion
additional skills: Songwriter - Composer, Other, Producer
genre: Electronica
also: Trip Hop, House, Pop
website:
cd available at:
e-mail:
telephone:
mailing address:
signed to: unsigned
major influences: Massive Attack, Craig Armstrong
similar artists:
location:
biography
Jukebox Junky was created in August 2002 by the only member : Yves Maillé ( Drummer — Pecussionist — Composer ).
Born in 1970 in Montbéliard ( France ), I started studing music and specially percussion at 3 years old.
First Price from Strasbourg National Conservatory in 1989, I started my professional music life drummer — percussionist — composer in 1988 as a member of the percussions ensemble called Macumba directed by Jean Batigne creator of the famous international percussions ensemble " Les Percussions de Strasbourg ".
In the years to follow, I worked both in studio and on stage with national and international artists such as Tokiko Kato ( Japan ), Christian Fougeron from Raft ( France ), The Road Riders ( France ), Becky Hobbs ( USA ), Heather Myles ( USA ), Chuck Berry ( USA ) , Jimmy Bock ( France ) and composed for publicities, expositions and short movies such as " Prˇsidentielles 95 " ARTE, " La Fourchette " directed by Gilles Bergo , ' J'en Pince Pour Toi " directed by Gilles Bergo , ' Polaroid " directed by Gilles de Gruttolla, ' La Gagne " directed by Gilles Bergo , ' Exposition Dinosaures " produced by Creamonde…
Strong of these experiences, I wanted to melt all this with my own life and my own sensibility. That's why Jukebox Junky is born .
Enjoy !
upcoming shows

location
date
time
price
notes
support live music
record label:
music publisher:
management:
publicity:
to make updates or changes send e-mail to contact00@ThisSideofSanity.com with this reference number dr000004
listings without contact info will be removed December 31st
---
This Side of Sanity
presents
drums/percussion listings
Free capsule summary web pages for independent bands and solo acts. Send your basic information (name, e-mail, phone, mailing address, website, instrument(s), style/genre, general location/country, etc.) to contact00@ThisSideofSanity.com. Keep total text information under 12K and limit of a single JPEG or GIF attachment (smaller than 23k). This is all done by hand, so please be patient on listings being added.
Also, after I find a reliable service, I will be resuming the internet radio station MiloRadio.com — so feel free to submit CDs toMiloRadio.com, PO Box 1361, Tustin, Calif, 92781, USA.
---
song information
---
music | poetry | art | essays | humor