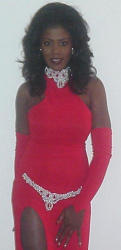 Marcia Mitchell
primary skill: female vocals
additional skills: Songwriter - Composer/Lyricist, Other
genre: R&B
also: Country, Pop
website:
cd available at:
e-mail:
telephone:
mailing address:
signed to: unsigned
major influences: "I just love good music!!!"
similar artists:
location: Florida
biography
This artist and her band are HOT!!! Marcia Mitchell has truly made her mark in the entertainment arena. When she hit the scene as a performer in Florida, many people from all walks of life began to follow her career. Some of them from far away places. Local radio station personalities took it upon themselves to label her as "Florida's Best Kept Secret." The overwhelming demands of being asked to perform for major corporations as well as all types of venues and other private and social gatherings, forced her to create the MARCIA MITCHELL BAND. Their reputation precedes them and their performances are electrifying!!! Marcia has such an incredible vocal range and carries a glorious ambience on stage and off. This diva believes in hard work and giving the crowd what they want! Her ultimate goal is to become BEST NEW ARTIST and her plans also include landing an appearance either on television or in the movies which may involve her writing the soundtrack of that particular program or show. Marcia Mitchell is a STAR!
upcoming shows

location
date
time
price
notes
support live music
record label:
music publisher:
management:
publicity:
to make updates or changes send e-mail to contact00@ThisSideofSanity.com with this reference number fv000010
listings without contact info will be removed December 31st
---
This Side of Sanity
presents
female vocalist listings
Free capsule summary web pages for independent bands and solo acts. Send your basic information (name, e-mail, phone, mailing address, website, instrument(s), style/genre, general location/country, etc.) to contact00@ThisSideofSanity.com. Keep total text information under 12K and limit of a single JPEG or GIF attachment (smaller than 23k). This is all done by hand, so please be patient on listings being added.
Also, after I find a reliable service, I will be resuming the internet radio station MiloRadio.com — so feel free to submit CDs toMiloRadio.com, PO Box 1361, Tustin, Calif, 92781, USA.
---
song information
---
music | poetry | art | essays | humor