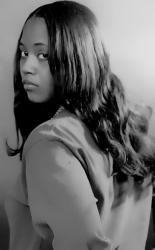 Alexis
primary skill: female vocals
additional skills: Songwriter - Composer/Lyricist, Producer
genre: R&B
also: Pop, Rap, Hip Hop
website:
cd available at:
e-mail:
telephone:
mailing address:
signed to: unsigned
major influences: Christina Aguilera, Whitney Houston, Patti Label
similar artists:
location:
biography
Think you know what a sophisticated blend of soulful vocals with an urban R&B/Hip Hop feel sounds like? Infectious and Innovative? …You're absolutely right…meet Alexis Lockette. "I am not shy," smiles Alexis. In my heart I feel that I've been blessed with a gift of song and dance. This is my mission in life and I'd like to share it with the world.
Alexis, although young in her years, knows exactly what she wants and makes it known to her peers and fans. She is also a confident songwriter who is not afraid of criticism. "My ears and eyes are always open for new ideas and opinions. I am not intimidated to express myself through my songwriting." She smiles, it is my best form of therapy — next to singing in the shower, of course.
Alexis is currently seeking a record label that will help launch her career to the top. She has a head on her shoulders and gets involved in the artistic and business aspects of her career. "I wouldn't have it any other way. I've heard way too many horror stories. I don't want to be a statistic." Alexis's talent and hard work already speaks for itself. Alexis is going to conquer the world!
upcoming shows

location
date
time
price
notes
support live music
record label:
music publisher:
management:
publicity:
to make updates or changes send e-mail to contact00@ThisSideofSanity.com with this reference number fv000012
listings without contact info will be removed December 31st
---
This Side of Sanity
presents
female vocalist listings
Free capsule summary web pages for independent bands and solo acts. Send your basic information (name, e-mail, phone, mailing address, website, instrument(s), style/genre, general location/country, etc.) to contact00@ThisSideofSanity.com. Keep total text information under 12K and limit of a single JPEG or GIF attachment (smaller than 23k). This is all done by hand, so please be patient on listings being added.
Also, after I find a reliable service, I will be resuming the internet radio station MiloRadio.com — so feel free to submit CDs toMiloRadio.com, PO Box 1361, Tustin, Calif, 92781, USA.
---
song information
---
music | poetry | art | essays | humor