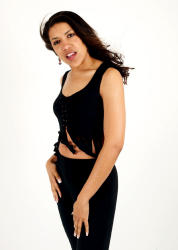 Brigit
primary skill: female vocals
additional skills: Rapper - Female, Songwriter - Composer/Lyricist, Other
genre: R&B
also: Alternative Rock, Hip Hop, Latin
website:
cd available at:
e-mail:
telephone:
mailing address:
signed to: unsigned
major influences:
similar artists:
location: Atlanta, Georgia
biography
On the outside, this soft-spoken, mild-natured personality harbors an exciting, chameleon-like voice that can rise to any occasion while performing sultry rhythm and blues, rap, pop/rock, and yep folks even country!
She aspires to reach the masses by singing about life through her eyes and from those around her who have shared their life experiences.
The unique style, appeal, and creative talents of this artist will serve her well as she raises the bar in the music industry!!
What can she bring to the table? A sexy voice, catchy lyrics, uniqueness and originality. Check her out and tell us what you think!
Now residing in the Atlanta area, she recently finished a demo CD consisting of songs she has written and co-produced.
upcoming shows

location
date
time
price
notes
support live music
record label:
music publisher:
management:
publicity:
to make updates or changes send e-mail to contact00@ThisSideofSanity.com with this reference number fv000013
listings without contact info will be removed December 31st
---
This Side of Sanity
presents
female vocalist listings
Free capsule summary web pages for independent bands and solo acts. Send your basic information (name, e-mail, phone, mailing address, website, instrument(s), style/genre, general location/country, etc.) to contact00@ThisSideofSanity.com. Keep total text information under 12K and limit of a single JPEG or GIF attachment (smaller than 23k). This is all done by hand, so please be patient on listings being added.
Also, after I find a reliable service, I will be resuming the internet radio station MiloRadio.com — so feel free to submit CDs toMiloRadio.com, PO Box 1361, Tustin, Calif, 92781, USA.
---
song information
---
music | poetry | art | essays | humor