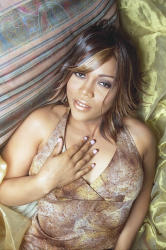 Tammy Harris
primary skill: female vocals
additional skills: Songwriter - Lyricist, Producer, Keyboards
genre: R&B
also: Jazz, Gospel, House
website:
cd available at:
e-mail:
telephone:
mailing address:
signed to: unsigned
major influences: My Mom and so many great performers
similar artists:
location: Chicago, Illinois
biography
Tammy Harris is a talented vocalist and lyricist from Chicago, Illinois. Her debut album, "Can't Keep A Good Woman Down" will be available on line July 4, 2003 and in stores the middle of July. CDs will also be availabe at the CD release party June 25th, 2003.
By all accounts, Tammy is a relative newcomer to the "business" although she has been singing and writing since the age of 6. Tammy recorded her first song in the year 2000 and entered it into the John Lennon Songwriting Contest. She received an honorable mention for her song, "I'm Through; I'm Done." In the 2002 JLSC contest, Tammy received another honorable mention for her song "Only To You."
Tammy formed a production company, Root Soul Productions, in 2001 and has worked to build strong relationships with many talented artists in the Chicago area. Tammy constantly seeks to grow in her field taking under one challenge after another.
While RS Productions is in the beginning stages of development, Tammy's goal is to help open up the doors for many Chicago talents in the industry. "With all of the talent in the Chicago area it is so unbelievable that we do not have a major base."
Tammy is the co-producer and co-writer on most of the material for her upcoming CD. Tammy performs all of the lead vocals, most of the background vocals and arranges.
Tammy's producer is Don Gibson, a very talented Chicago producer, composer, and arranger. "Can't Keep A Good Woman Down" is also Don's debut producer project.
Tammy was inspired by many greats from Phyllis Hyman to Stephanie Mills, Stevie Wonder to Elton John, Billie Holiday to Etta James, Albertina Walker to Kurt Carr, First Choice to Sylvester, Bob Marley to Peter Tosh, The Doors to The Police, collectively "The Motown Sound", and on and on.
Tammy's musical taste and style are diverse.
upcoming shows

location
date
time
price
notes
support live music
record label:
music publisher:
management:
publicity:
to make updates or changes send e-mail to contact00@ThisSideofSanity.com with this reference number fv000016
listings without contact info will be removed December 31st
---
This Side of Sanity
presents
female vocalist listings
Free capsule summary web pages for independent bands and solo acts. Send your basic information (name, e-mail, phone, mailing address, website, instrument(s), style/genre, general location/country, etc.) to contact00@ThisSideofSanity.com. Keep total text information under 12K and limit of a single JPEG or GIF attachment (smaller than 23k). This is all done by hand, so please be patient on listings being added.
Also, after I find a reliable service, I will be resuming the internet radio station MiloRadio.com — so feel free to submit CDs toMiloRadio.com, PO Box 1361, Tustin, Calif, 92781, USA.
---
song information
---
music | poetry | art | essays | humor