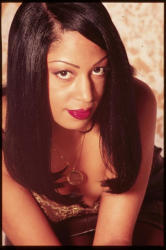 Jae Voguelle
primary skill: female vocals
additional skills: Songwriter - Composer/Lyricist
genre: R&B
also: Contemporary Jazz, Hip Hop, House
website:
cd available at:
e-mail:
telephone:
mailing address:
signed to: Way 2 Real Entertainment
major influences: Toni Braxton, Sade & Erykah Badu
similar artists:
location: San Francisco, California
biography
Born and raised in San Francisco, Jae was destined to make it big. Even at an early age, Jae took to the stage from acting in high school plays to singing her heart out in talent shows and later fashion modeling for several clothing designers, but her burning desire to become a recording artist pressed on. Some of Jae's inspirations are Toni Braxton,Sade, Erykah Badu, Teena Marie and Mariah Carey.
As a teenager Jae was part of a girl group called Ynturaj and although the group eventually broke up, Jae began performing at local nightclubs throughout the Bay Area with well known jazz guitarist Tony DeWayne. Not only could Jae sing, but she left a lasting impression on the audience with her sultry sound and undeniable sex appeal.
One night while performing at Geoffrey's in Oakland, California she caught the eye of Ted Selu, the CEO and Founder of Way 2 Real Entertainment. Shortly thereafter, Jae signed her first deal with the independent label. Finally, Jae had a label she could call home and all of the artistic freedom she was looking for.
The release of her first single, entitled "Lovin' You", immediately followed. The single received excellent reviews from fans and critics. Jae is currently in the process of developing her next release. Some of the new material such as "Dawn", "Prayer For The Innocent", and "Dandelions" has already elicited rave reviews from several key industry executives. Jae Voguelle is an incredibly gifted artist and definitely here to stay.
upcoming shows

location
date
time
price
notes
support live music
record label: Way 2 Real Entertainment
music publisher:
management:
publicity:
to make updates or changes send e-mail to contact00@ThisSideofSanity.com with this reference number fv000020
listings without contact info will be removed December 31st
---
This Side of Sanity
presents
female vocalist listings
Free capsule summary web pages for independent bands and solo acts. Send your basic information (name, e-mail, phone, mailing address, website, instrument(s), style/genre, general location/country, etc.) to contact00@ThisSideofSanity.com. Keep total text information under 12K and limit of a single JPEG or GIF attachment (smaller than 23k). This is all done by hand, so please be patient on listings being added.
Also, after I find a reliable service, I will be resuming the internet radio station MiloRadio.com — so feel free to submit CDs toMiloRadio.com, PO Box 1361, Tustin, Calif, 92781, USA.
---
song information
---
music | poetry | art | essays | humor