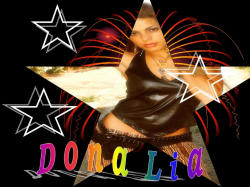 Dona Lia
primary skill: female vocals
additional skills: Songwriter - Composer/Lyricist, Songwriter - Lyricist, Rapper - Female
genre: R&B
also: Hip Hop, Gospel, Pop
website:
www.donalia.com
cd available at:
e-mail:
dona_lia@hotmail.com
telephone:
mailing address:
signed to: unsigned
major influences: EWF, Beatles, Parliament, Rachelle Ferrell, Miles Davis
similar artists:
location:
biography
GOIN' ALL THE WAY TO THE TOP — PUBLISHED BUT STILL NOT SATISFIED! I am a songwriter/artist that has a passion for the art and craft of music and also understands the business and industrial aspect of the commodity that is contemporary music. I believe a delicate and maintained balance of the two dynamics is a necessary component of lasting success in this field. I have been writing songs since age 8, recording since age 12, and performing since age 13.
DISCOGRAPHY:
• co-wrote "Cream Cheese" by Mya from the "All About the Benjamins" soundtrack (New Line 2002)
• wrote/sang "I'll Never Get Enough" from the Disney Channel original movie "Get A Clue" (Disney 2002)
• co-wrote/featured on "All Around" by Baby S featuring Jabree and Dona Lia on the album entitled "Street Fractions" (Blast/Ruthless 2002)
• wrote/sang "Move Over" as seen on the NBC series "All About Us" (episode "Sweet Little Lies", NBC 2001)
WRITING GOALS:
My immediate goals are to place songs with new and established artists as well as to secure a publishing deal with a major publisher. I am also seeking professional representation and/or a deal with a production company as a writer or as a writer/artist.
RECORDING GOALS:
I sing and write all of the songs I demo. I am open to a career as a recording artist as well and a recording deal with a major or independent label. I am consistent, professional, loyal, and a fast writer.
I write, sing, and enjoy just about all genres of music, and I particularly enjoy R&B, Neo-Soul, Pop, Funk, Jazz, and Gospel.
In addition to writing and singing, I also am pursuing a Marketing degree full-time. My other interests include writing poetry, drawing, reading, volunteering and traveling.
Thank you very much for your time and consideration in reading my bio and I wish you success in every endeavor you pursue! Please contact me via T-mail if you are interested.
upcoming shows

location
date
time
price
notes
support live music
record label:
music publisher:
management:
publicity:
to make updates or changes send e-mail to contact00@ThisSideofSanity.com with this reference number fv000021
---
This Side of Sanity
presents
female vocalist listings
Free capsule summary web pages for independent bands and solo acts. Send your basic information (name, e-mail, phone, mailing address, website, instrument(s), style/genre, general location/country, etc.) to contact00@ThisSideofSanity.com. Keep total text information under 12K and limit of a single JPEG or GIF attachment (smaller than 23k). This is all done by hand, so please be patient on listings being added.
Also, after I find a reliable service, I will be resuming the internet radio station MiloRadio.com — so feel free to submit CDs toMiloRadio.com, PO Box 1361, Tustin, Calif, 92781, USA.
---
song information
---
music | poetry | art | essays | humor