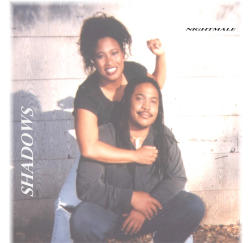 Andre' Brooks & Karmyn Brooks
primary skill: Songwriter - Composer/Lyricist
additional skills: Producer, Guitar - Lead, Keyboards
genre: Pop
also: R&B, Mainstream Rock, Alternative Rock
website:
cd available at:
e-mail:
telephone:
mailing address:
signed to: unsigned
major influences: Minnie Riperton, Bob Marley, Steve Perry
similar artists:
location:
biography
Andre' Brooks:
I love getting lost in the process of putting a production together. Music has always been in my life. I was introduced to the music industry by my father (Arthur) and uncle (Richard). "The Brooks Brothers" of "The Impressions" with Jerry Butler, Curtis Mayfield, and Sam Gooden & Fred Cash (inducted in the Rock-n-Roll Hall of Fame in 1991 and R&B Hall of Fame 2000).
I was fortunate as a child to watch them write, record, and perform. This type of atmosphere influenced my ability and dream to become a producer and composer/lyricist.
I began actually playing and composing at the age 10 fooling around in neighborhood garage bands. I played gigs in high school and junior high bands at 13. Unlike myself, all my siblings were in high school marching bands and elected as drum majors. I wanted to be creative in the craft of songwriting and producing. In my later teens realized the impact of music theory.
After High School, I toured nightclubs and casinos with my father & uncle on a oldies gig providing guitar and bass. I also played with several bands playing cover tunes and original music. Many of the guys I played with moved on to play with major artists.
In the 90's, I did not perform or join any bands due to the lesson of patience taught by my mother Evelyn. I decided to stay home and concentrate on songwriting because of the advancements in technology (workstations). I purchased a computer and started working with sequencing software and midi.
My first introduction to Tonos was in the fall of 2000 in which I entered the "Grinch" contest. Tonos gave me the opportunity to develop my songwriting/music, computer, and internet skills. To hear a project come to life online has been a most rewarding and long awaited fantasy. Thank you Tonos.
Tonos Featured Project:"I Want You Back"
Tonos Radio Show #17:"I Want You Back"
Tonos Radio Show #33:"I Don't Wanna"
Tonos Sugababes Contest:"I Don't Wanna"
Tonos City High Contest:"Nothing Left"
upcoming shows

location
date
time
price
notes
support live music
record label:
music publisher:
management:
publicity:
to make updates or changes send e-mail to contact00@ThisSideofSanity.com with this reference number sw000007
listings without contact info will be removed December 31st
---
This Side of Sanity
presents
songwriter listings
Free capsule summary web pages for independent bands and solo acts. Send your basic information (name, e-mail, phone, mailing address, website, instrument(s), style/genre, general location/country, etc.) to contact00@ThisSideofSanity.com. Keep total text information under 12K and limit of a single JPEG or GIF attachment (smaller than 23k). This is all done by hand, so please be patient on listings being added.
Also, after I find a reliable service, I will be resuming the internet radio station MiloRadio.com — so feel free to submit CDs toMiloRadio.com, PO Box 1361, Tustin, Calif, 92781, USA.
---
song information
---
music | poetry | art | essays | humor