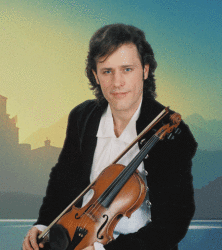 Martin Lass
primary skill: Strings
additional skills: Songwriter - Composer/Lyricist, Producer
genre: Other
also: New Age, Celtic, Classical
website:
cd available at:
e-mail:
telephone:
mailing address:
signed to: unsigned
major influences: Enya, John Barry, kenny g, Sting, Clannad
similar artists:
location:
biography
Before crossing genres, was classically trained as a violinist and composer in Sydney, Australia. Played with Sydney Symphony Orchestra, Sydney Opera Orchestra and Australian Chamber Orchestra before going solo and crossing genres. Crossed genres in early 20s, developing a high-profile career as a poplular performer in Australia, live, on TV and on numerous recordings. Has 10 CD recordings released in Australasia (mainly covers). Played alongside such greats as Luciano Pavarotti, Julio Iglesias, Yehudi Menhuin, Joan Baez, Joan Sutherland. Played 3 Royal Command Performances for the British Royal family. Won many awards in Australia for instrumental performance. Seasoned in many media formats — live concerts, radio, television, newspapers, video, film and Internet. Moved to New York in year 2000 to further career, particularly with own original music. First US-based CD release in May 2002, album entitled, "Sonnet": all original music with composer as performer and producer. Looking to have consumer recognition of my music equal to a kenny g or an Enya, worldwide, with concerts, recordings, television specials, videos and music picked up by major movie producers.
Currently writing a show for Broadway/concert stage - a music/modern dance spectacular with a popular-themed storyline.
Aside from music, writes in the area of new age, spirituality, astrology and fiction. Has authored numerous books. Is a professional astrologer/healer.
upcoming shows

location
date
time
price
notes
support live music
record label:
music publisher:
management:
publicity:
to make updates or changes send e-mail to contact00@ThisSideofSanity.com with this reference number st000001
listings without contact info will be removed December 31st
---
This Side of Sanity
presents
string listings
Free capsule summary web pages for independent bands and solo acts. Send your basic information (name, e-mail, phone, mailing address, website, instrument(s), style/genre, general location/country, etc.) to contact00@ThisSideofSanity.com. Keep total text information under 12K and limit of a single JPEG or GIF attachment (smaller than 23k). This is all done by hand, so please be patient on listings being added.
Also, after I find a reliable service, I will be resuming the internet radio station MiloRadio.com — so feel free to submit CDs toMiloRadio.com, PO Box 1361, Tustin, Calif, 92781, USA.
---
song information
---
music | poetry | art | essays | humor