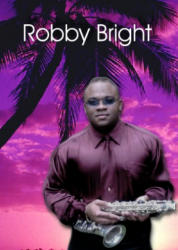 Robby Bright
primary skill: Saxophone
additional skills: Producer, Keyboards, Songwriter - Composer
genre: Contemporary Jazz
also: R&B, Jazz
website:
e-mail:
telephone:
mailing address:
major influences: Gerald Albright, Boney James
similar producers:
location:
biography
Whether he's performing in front of a crowd of thousands or laying tracks in an intimate studio session, Robby Bright is at one with his sax. His amateur musical career was peppered with numerous awards and honors for Outstanding Musicianship. He even earned a scholarship to the prestigious Berkley School of Music at the age of 15. But it wasn't until after the release of his debut album Risin' 2 the Top in 1999 that Robby was sure that Music was his calling. His debut album hit the Internet charts hard, with each song peaking in the Top 50 and staying there for quite a long time.
This success segued quite naturally into his sophomore release Sometimes You Just Know in 2000. Robby teamed up with R&B / Jazz producer John Howcott to create an album that hit Smooth Jazz radio just as hard as it hit the charts. The album earned "Most Added" album in Smooth Jazz radio for 3 consecutive weeks in 2001. It then moved into the Smooth Jazz Top 40 where it resided for 18 consecutive weeks. The success of this album has afforded Robby the opportunity to perform with many of his Musical idols, a few of which include legendary artists Gerald Albright, Boney James, and Oleta Adams.
Whether you knew it or not you've probably heard Robby before. His work on the 2002 National Ad campaign for State Farm Insurance with Spike Lee's Spike / DDB is playing on both radio and television markets across the US. His music can be heard in over 40 US markets as well as a number of European markets, Canada, Australia, and the Ukraine. Robby has performed live to close to half a million people in his short career and this is only the beginning. Be sure to catch him live and find out why he was named one of the "People to Watch for 2002" in the Entertainment Industry by the Cincinnati Enquirer, according to the publication "The Future Looks Bright" for Robby and his record label 13th Floor Productions.
to make updates or changes send e-mail to contact00@ThisSideofSanity.com with this reference number ww000003
listings without contact info will be removed December 31st
---
This Side of Sanity
presents
woodwind listings
Free capsule summary web pages for independent bands and solo acts. Send your basic information (name, e-mail, phone, mailing address, website, instrument(s), style/genre, general location/country, etc.) to contact00@ThisSideofSanity.com. Keep total text information under 12K and limit of a single JPEG or GIF attachment (smaller than 23k). This is all done by hand, so please be patient on listings being added.
Also, after I find a reliable service, I will be resuming the internet radio station MiloRadio.com — so feel free to submit CDs toMiloRadio.com, PO Box 1361, Tustin, Calif, 92781, USA.
---
song information
---
music | poetry | art | essays | humor